Strætó is a company that provides service in public transport in the capital area and Iceland. The values that Strætó operates according to are: Cooperation, reliability and driving force.
---
Through training and education, the staff is better equipped to tackle their tasks, increase competence, skills, and knowledge. In this way, improved performance and results in work are promoted with satisfaction as the guiding principle.
Below you will find information about Strætó's emphasis on education.
---
Strætó is a participant in a European collaborative project on the training and education of public transport staff.
The purpose is to train current and future employees of public transport to cope with demanding tasks in daily life and work. The training will use different and innovative teaching methods where individual learning, online learning, group work and workshops will be mixed, as well as virtual reality will be used. Virtual reality gives employees the opportunity to apply their knowledge immediately in situations that are very similar to real situations.
Topics
The subjects of the training are divided into four categories:
Environmental awareness – to increase staff awareness of the importance of environmentally friendly transport options and sustainability.
Awareness of disagreements – to increase staff's ability to deal with situations that could lead to misunderstandings and/or disagreements.
Civic courage – that staff gain the confidence and courage to intervene in different situations and help people.
Stress management – that employees gain control of stress and improve general health and well-being.
The Erasmus+ grant program supports e.g. exchange studies, volunteer work, youth exchange, lifelong learning of staff, information technology in teaching, language learning.
---
Icelandic as a leading language
Strætó's goal is to facilitate the integration of employees who have a language other than Icelandic into the company and society. In recent years, the company has collaborated with Retor Fræðsla on teaching Icelandic to employees.
Most of the employees have now completed one to three levels of Icelandic studies. New employees are invited to take a position test after permanent employment and then as a result of the next course that suits them.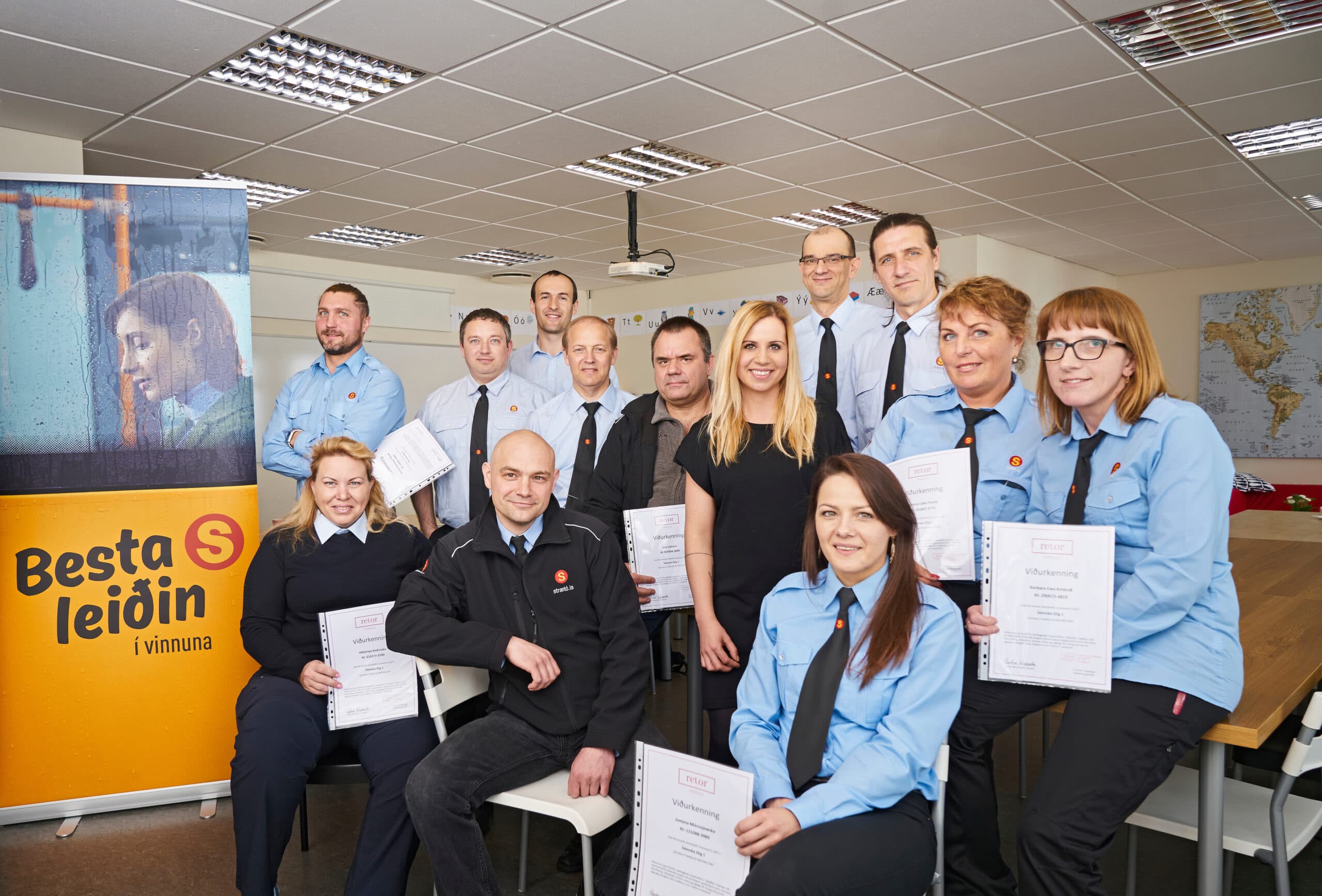 ---
Re-education for professional drivers
Drivers of commercial passengers (D and D1) are required by law to attend 35 hours of retraining every five years.
Strætó received an operating license to hold courses in the retraining of professional drivers in 2018 and has since held several courses each year for bus drivers, incl. in eco-driving, traffic safety, laws and regulations, passenger transport, and first aid.
---